Rigatoni with Grilled Polish Sausage and Charred Tomato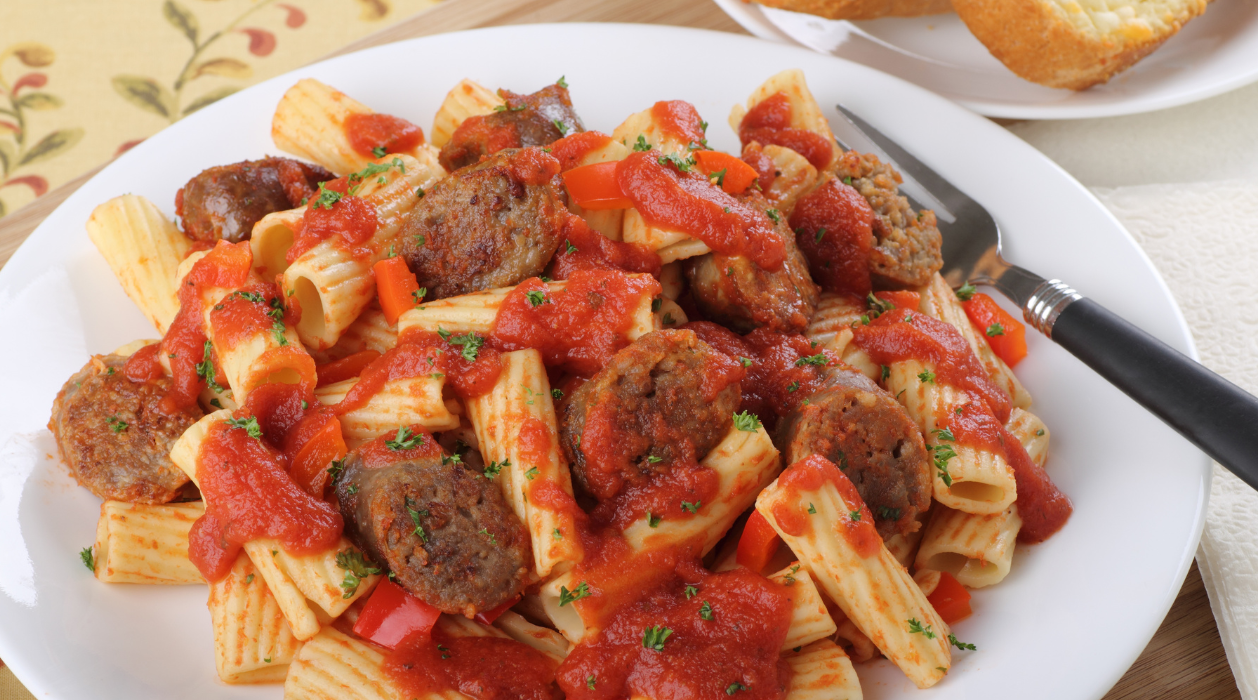 By Guest Chef, Patrick Lane
Rigatoni with grilled Polish sausage and charred tomato is a delicious and hearty pasta dish that is perfect for a cozy dinner at home. The grilled sausage adds a smoky flavor to the dish, while the charred tomatoes provide a slightly sweet and tangy taste. This dish is sure to satisfy your cravings for a comforting and delicious meal.
Ingredients
Tomatoes, whatever is the freshest
2 lbs.
Reserved pasta cooking water
1 cup
Fresh basil leaves
1 1/2 cups
Fresh ground peppercorn to taste
Italian parsley leaves, finely chopped
1/2 cup
Red onion, finely chopped
1/4 cup
Lemon zest, about 1 lemon
1 Tbsp
Lemon juice, use the same lemon
2 1/2 Tbsp
Sea salt or kosher
1/2 Tbsp
Extra virgin olive oil
1/2 cup
Utensils
Grill
Tongs
8 qt. or so pot for pasta
Meat thermometer
Instructions
Start your grill and get it to 425° or so with a direct and indirect cooking area.
Start over the direct heat and grill the sausages till they are nice and browned on all sides, about 3-4 minutes. Move them to the indirect side and close the lid.
Cook for about 8 min with the lid closed and they reach an internal temp of 160°. Now set them aside to cool.
Cut the tomatoes in halves and grill, cut side down until they start to char a bit. Flip and repeat. Set them aside to cool.
Chop the garlic, parsley, and red onion. Throw it in a large mixing bowl. Add lemon juice, zest, and salt.
Drizzle all that with the olive oil and give it a toss.
Cook the pasta to your preferred doneness.
Rough chop or food process the tomatoes, add to the bowl, and juice too.
Slice the sausage and toss them in too.
The pasta should be about ready, so drain it, throw it in the bowl and give all of it a good toss.
If the pasta isn't saucy enough add some pasta water. (not too much. 1 tbsp at a time!)
Serve the pasta topped with fresh ground black pepper, parmesan, and basil leaves.
---