Frenched Bone-In Pork Loin Roast with Garlic and Rosemary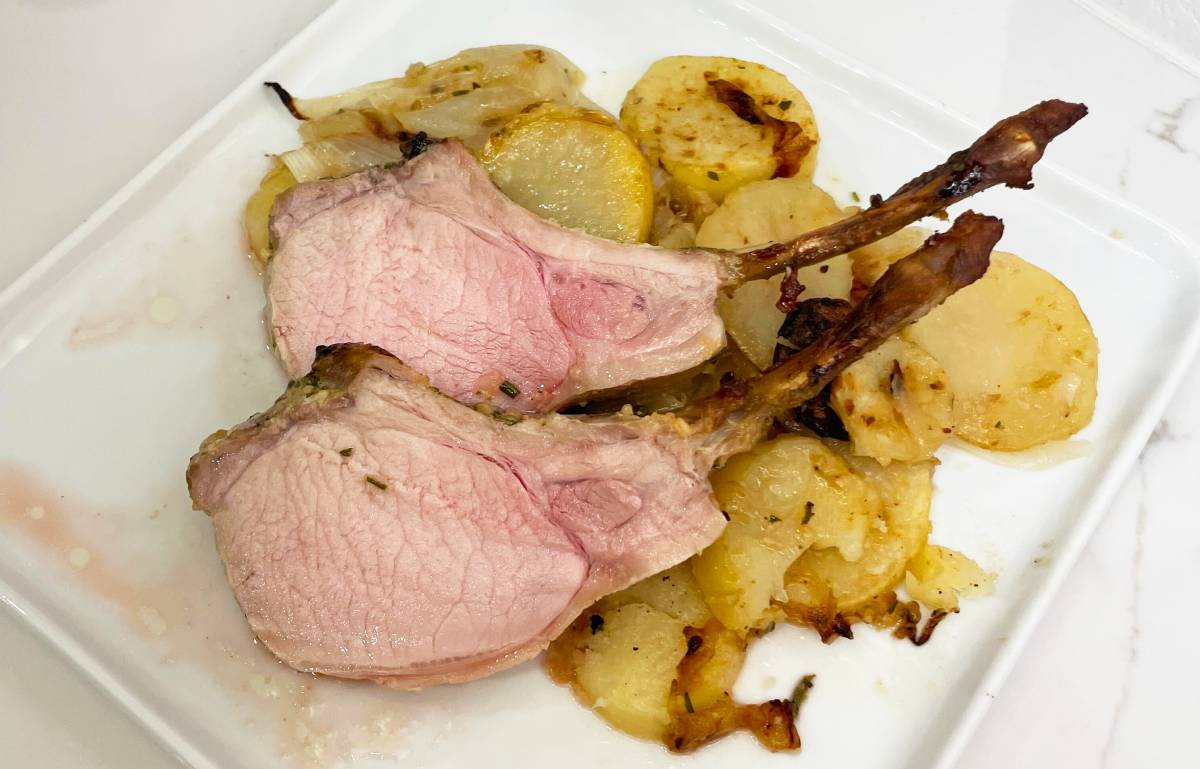 This roast would make a stunning centerpiece for a holiday dinner, or a meal to impress the family and friends on any occasion, and we do the frenching of the roast for you! A harmonious blend of savory, herby, and slightly tangy flavors, resulting in a delicious and festive roast that's perfect for a holiday meal. The roast should be juicy and tender, with a well-balanced taste that appeals to a variety of palates.
Stunning and yummy! Could you ask for more? Oh yeah, good for the earth and you! Let's get started:
Ingredients
Fresh rosemary, chopped
1-1/2 Tbsp
Chicken bone broth
1/2 cup
Additional rosemary sprigs for garnish
Utensils
Cutting board
Sharp knife
Small bowl
Roasting pan
Rack for roasting pan
Baster
Instructions
Preheat your oven to 400°F.
Peel and slice the onions and potatoes and place them in a bowl.
Pour 3 Tbsp of olive oil over the onions and potatoes. Season with 1 tsp of salt.
Pat the pork loin roast dry with paper towels. Place it on a cutting board and poke the roast with a fork all over to make small holes.
Mix the minced garlic, rosemary, olive oil, Dijon mustard, remaining salt, and black pepper in a small bowl to create a paste.
Rub the paste over the pork loin.
Use the remaining paste and toss with the onions and potatoes.
Place the potatoes and onions at the base of the roasting pan under the rack. Set the pork on top of the rack.
Pour the chicken bone broth around the loin (not over it!).
Place the roasting pan in the oven. Roast for 30 minutes.
Take the pan out and baste the loin with its juices.
OPTION: Add 4 tbsp of melted butter over the roast at the time.
Put the roast back in the oven and roast for another half to one hour, or until the internal temperature has reached 125F.
Remove the pork from the oven. Take the rack out of the roasting pan tent with foil for 15 minutes to let the juices reabsorb.
While the pork is resting, put the pan with the onions and potatoes back in the oven to crisp up.
Once the pork has rested, carve and enjoy!
---