Chicken Drumsticks with Cumin & Ginger Lentils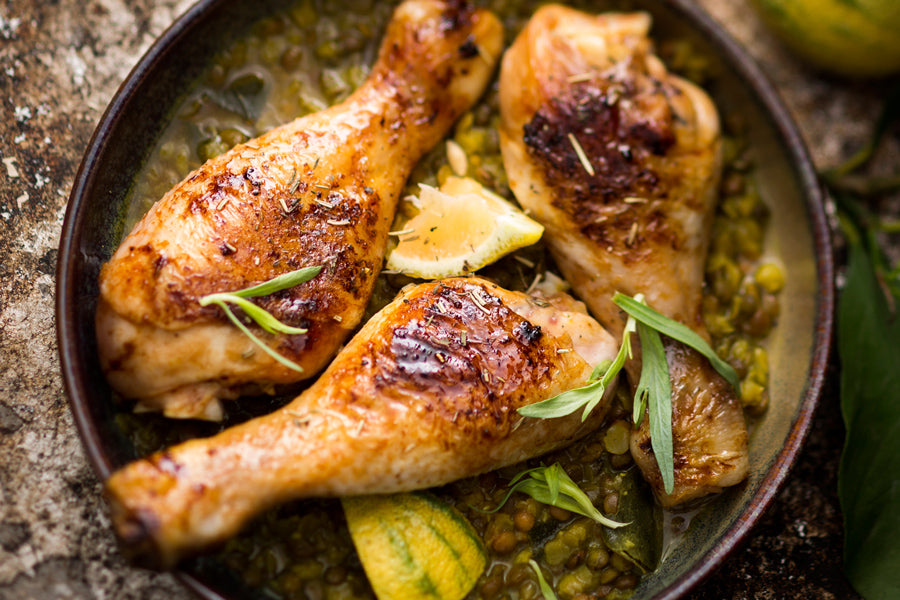 This chicken drumstick recipe is jam-packed with nutrition and flavor. Enjoy deeply flavorful pasture-raised dark meat that packs a protein punch alongside a serving of lentils which contain fiber, iron, magnesium, calcium, and iron, all in one bite. Easy to cook and makes great leftovers. 
makes:

4

total time:

Prep: 15 min | Cook: 40 min | Total: 55 min

cooking difficulty:

Easy

allergens:

Pepper

Tags:
Ingredients
Extra virgin olive oil, divided
4 Tbsp
Onion, peeled and finely diced
1 small
Garlic, peeled and crushed
2 cloves
Ginger, peeled and finely minced or grated
2 inch
Dried French lentils
1-1/2 cups
Wholegrain mustard
1 Tbsp
Lemon, cut in half, one half juiced, the other half in wedges
1
Fresh tarragon leaves for garnish
Nutrition Values
Calories :

373

Total Fat:

13.3g

Saturated Fat:

2.6g

Cholesterol:

81mg

Sodium:

1512mg

Total Carbohydrate:

26.7g

Dietary Fiber:

11.9g

Total Sugars:

2.6g

Protein:

36g
Utensils
Roasting tray
Medium bowl
Pot
Instructions
Preheat the oven to 425°F. Toss the chicken in a medium bowl with 2 tablespoons of olive oil. Season with salt and pepper. Spread over a roasting tray, then roast for 35-40 minutes.
Meanwhile, heat the remaining oil in a pot over medium heat. Add the onion garlic, and ginger and cook until soft and translucent, not caramelized, about 10 minutes. Add the lentils, bay leaves, cumin, and stock and bring to a simmer and cook for 25-30 minutes until the lentils are tender.
Stir in the mustard and the juice from half of the lemon. Cook for another minute.
Spoon the lentils into a serving dish and top with the drumsticks. Garnish with lemon wedges and fresh tarragon.
---