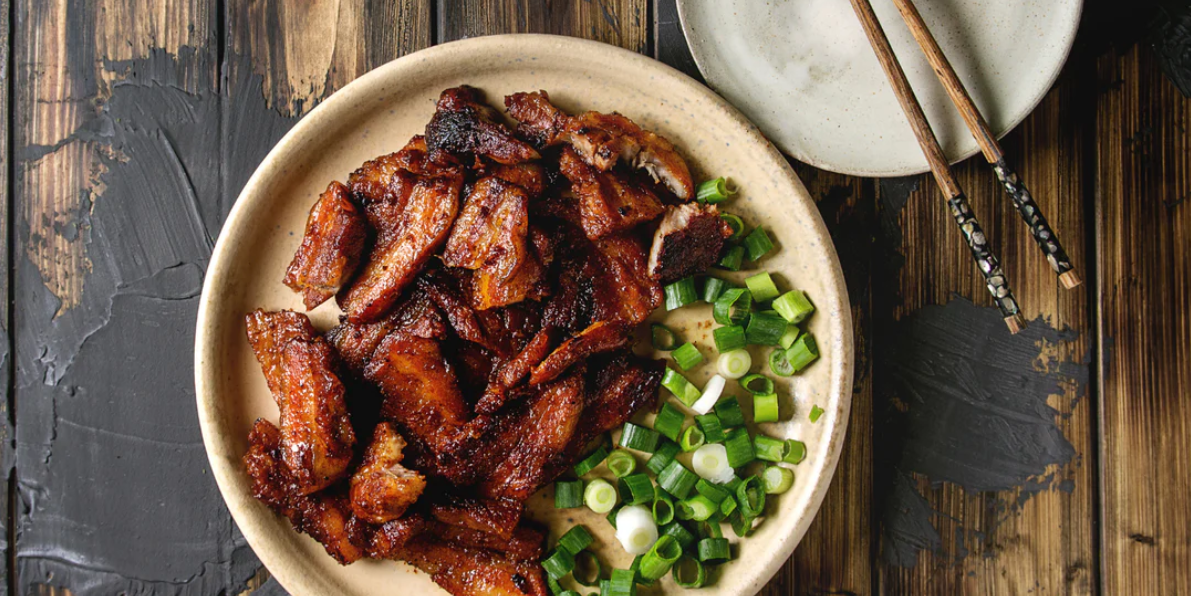 A delectable dish that tantalizes the taste buds with its rich and succulent flavors. The tender pork neck, slow-cooked in a fragrant blend of Asian spices and savory soy sauce, results in a melt-in-your-mouth experience. The dish offers a delightful balance of sweet, savory, and umami notes, leaving a lingering sensation of satisfaction with every bite. Enjoy.
Ingredients
Chinese broccoli, snap peas, or any combination of vegetables you like!
1 large bunch
Freshly grated ginger
2 Tbsp
Sesame oil + 1 tbsp
1 Tbsp
Kosher salt + 1 tbsp
1 Tbsp
Uncooked rice (optional)
1 cup
Utensils
Large mixing bowl
Dutch oven
Wok
Instructions
Preheat oven to 375 degrees.
In a large mixing bowl, combine pork necks, 1 tbsp salt, garlic, ginger, hoisin sauce, sugar, liquid aminos, chili flakes, and 1 Tbsp sesame oil. Let marinade for 1 hour in the fridge.
Transfer all contents into a large Dutch oven, cover, and braise in the oven for 2 hours. Turn pork necks over halfway through. Remove necks to a cutting board, and transfer braising liquid to a hot wok or large saute pan.
Trim veggies and add to the wok with a small dash of salt.
Remove all meat from pork necks, in small pieces. There won't be huge pieces of meat, but just bits of delicious, tender meat. Be careful, because there are lots of bones in the neck. Transfer all meat to a wok, and let saute for 5 minutes, until veggies are thoroughly cooked. Serve with rice, or by itself.
Note: Do not throw the bones away. Store them in your freezer so you can make a stock!
---