A New Generation of Farmers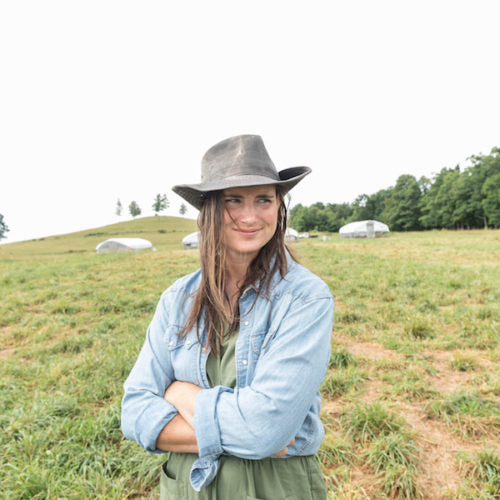 With Founding Farmer, Andrea Todt
How does mentorship usually work for you? I can generally tell after working with someone a little while whether I think they'd be successful farming on their own.  If you're willing to get up at 2:30 am, work super hard for 3 hours in the dark, and then have a full day of work after that—doing regular farm chores—you just might make a good farmer! When people love it and are excited about learning more, I'm more than happy to share as much as I know. And it's such a thrill to see people improve, to watch them discover their strengths and what they are capable of.  And I'm always so moved when a new farmer—one who shares our value for sustainability, stewardship, and nutrition— has their first batch of their own chicks. I feel like I've really made a difference.
Tell us a little about someone you've mentored? I met one of my first mentees Chris when he dropped by asking for work. He'd known about our farm and decided his dream job was working here. Since day one, Chris had been fully committed to farming. After about a month, he wanted even more responsibility than what I'd already given him. And things had been going so well that I told him I'd help him raise his own batch of birds.
So, how did you help him get started on his own? It started with two schooners that we built together. Those contraptions sure are useful, but they aren't terribly easy to put together—all hands were on deck that day. The first phase of life is so delicate and takes the right infrastructure. Most of the ongoing work is him asking questions and I would pop over to help with chores when he needs it. It's comforting to be connected to other people doing what we're doing and knowing that we're all in it together. I have high hopes for my mentees, and I believe that having someone to ask for help and be supportive will get them through the tough times and allow them to become a successful farmer.
Where do you get your inspiration from and how do you keep up with the latest thinking in animal husbandry? The people I work with are a lot of my inspiration. The animals too. There's nothing quite like seeing contented pigs snoozing under shady trees catching a breeze on a hot day on top of the hill or listening to the steers tear into fresh grass when you open them to a new paddock, or watching turkeys run after bugs during a move to fresh ground. If something looks good, smells good, tastes good, sounds good—surely those must be indicators that it is good?
I also like that there are always things to figure out and learn to do better. In the winter I like to read, stories about other farmers and their experiences are really valuable to me. Conferences are good, but I don't get to very many of them because it's hard being gone from the farm. I get to hear about new ideas from Cody—my husband and partner. He's always listening to podcasts and reading up on the latest in the trends in the movement. I also learn a lot from other farmers who have a lot more experience than I do.
What's next? More farmers! I hope we'll continue to have people come out who want to work and learn and decide if this is a lifestyle they want. I believe the market will continue to grow and that more people will demand food raised right. We're so grateful to have a community of mindful eaters who care as much as we do about food and that they are willing to support the farmers working to do things differently.
---