How We Practice Sustainability From Our Farms To Your Front Door.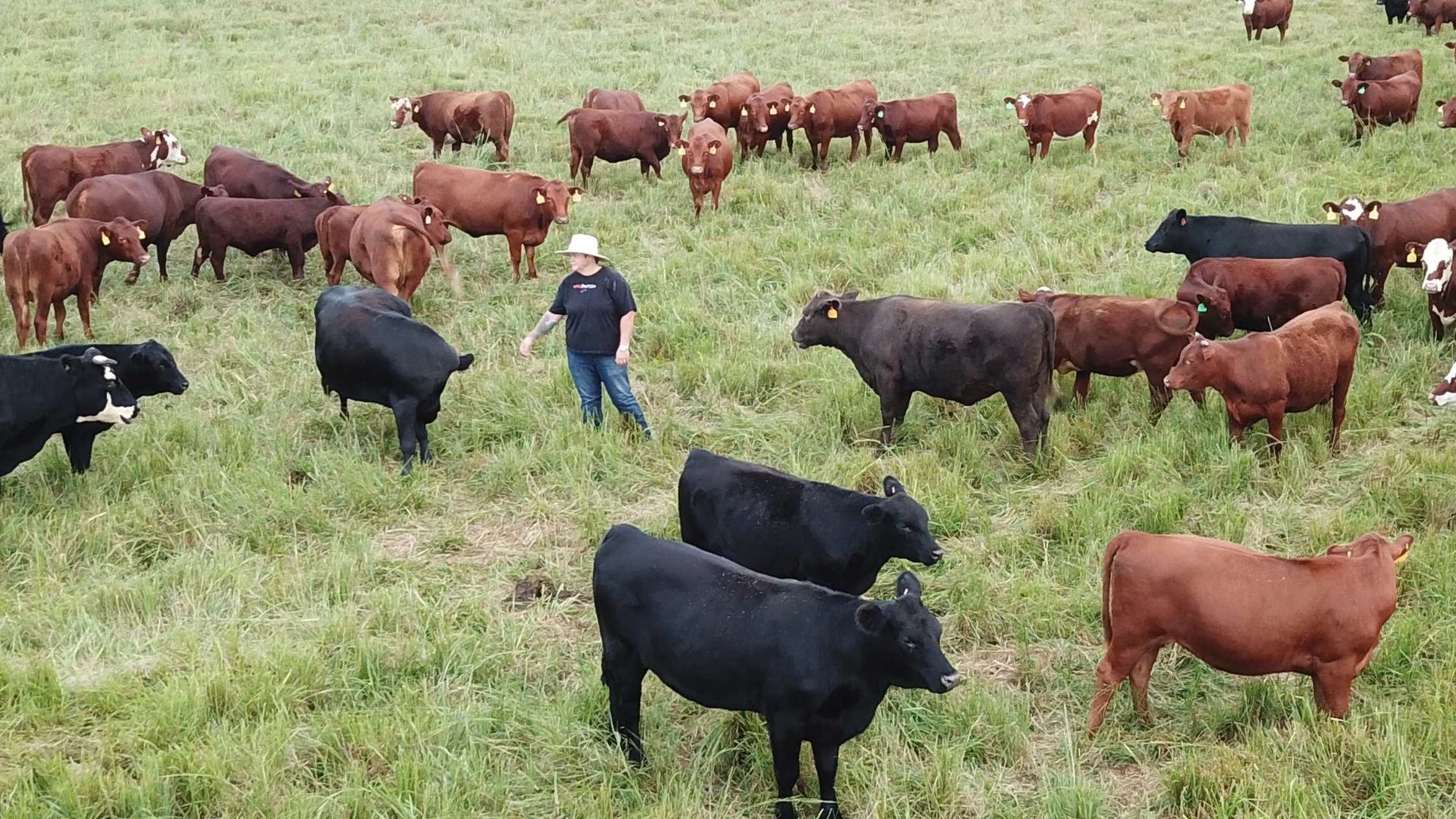 Environmental stewardship is a foundational component of our company's mission. Every day we implement innovative practices to keep our commitment to protecting the environment. From farming practices to shipping materials, we are focused on developing new ways to improve the impact of food supply chains and on offering a conscientious alternative to conventional meat eating. 
While Earth Day might only be 24 hours long, environmental conservation is part of Grass Roots' daily work. We believe it's necessary to take a step back and realize that our climate is changing and that we need solutions to be able to preserve and restore our shared home for future generations.
Restoring Our Planet From The Ground Up 
Soil Health, Herd Health, Human Health
Our stewardship practices start on the ground, literally. Grass Roots farmers practice regenerative agriculture, a type of farming that heals degraded soils, improves ecosystem function and builds biodiversity. This practice is a nature-based solution that can help heal the planet in the face of climate change. Grass Roots farms use regenerative techniques which aid in reversing climate change by rebuilding soil organic matter and restoring degraded soil biodiversity as we raise our animals. 
Additionally, the use of rotational grazing and grass diversity helps to sequester carbon. This process—reducing atmospheric carbon by pulling it from the air and into the soil—has been shown to slow global warming and mitigate climate change. Soil samples pulled from Grass Roots pastures in 2014 and again in 2018 show a 1% increase in organic matter—which proves that carbon is being sequestered on our farms.
"Regenerative agriculture is our greatest hope for healing our ecosystem, cooling the climate, and providing a future for those who steward the land." -Donna KIipatrick, Farmer and Land Steward at Heifer Ranch
Eco-conscious Packaging  
Reducing The Environmental Impact Of Our Materials
We consider environmental conservation at the forefront of every stage of our food system, even in how we get it to your front door.  That's why our trademark green shipping boxes are recyclable and are packed with plant-based insulation that's recyclable and biodegradable. This Green Cell Foam™ can be dissolved in water, composted, used as a fire starter on fire pits or grills. In fact, it's so earth friendly, it can even be plant food when diluted in a watering can. 
When you order your next box from Grass Roots, you can feel proud knowing that not only was your grass-fed meat raised and harvested ethically一but it was shipped ethically as well. 
Offsetting Our Carbon Footprint  
A Collective Effort For The Love Of Nature
Though we farm regeneratively, we still create a carbon footprint when moving animals from farm to processors and then to your door that generates zero impact. To mitigate our footprint, we've partnered with Pachama—a company that manages carbon offsetting and forestry projects around the world—and we now offset our shipping carbon footprint by restoring and protecting forests that sequester carbon long term to slow global warming. Driven by altruistic purpose, their team is a diverse group of engineers, scientists, and entrepreneurs who have a deep love for protecting the Earth's diverse ecosystems for many generations to come. 
"A core part of our mission is making it easier for everyone to buy directly from the farmer. Our partnership with Pachama allows us to do that while staying true to our commitment to caring for the earth." —Cody Hopkins, Farmer and CEO
At Grass Roots, we work to continuously improve our processes to prioritize environmentally responsible decisions and products. We all need a healthy earth to live and thrive in. Restoring our planet is not an option — it is a necessity.
We know that it will take a lot more than our own business practices to make a lasting impact on climate change, but we believe that together we can help save our planet. By taking these steps and continuing to evolve in making our practices better for the earth we hope to inspire others to do the same.
---