Sheet Pan Chicken Fajitas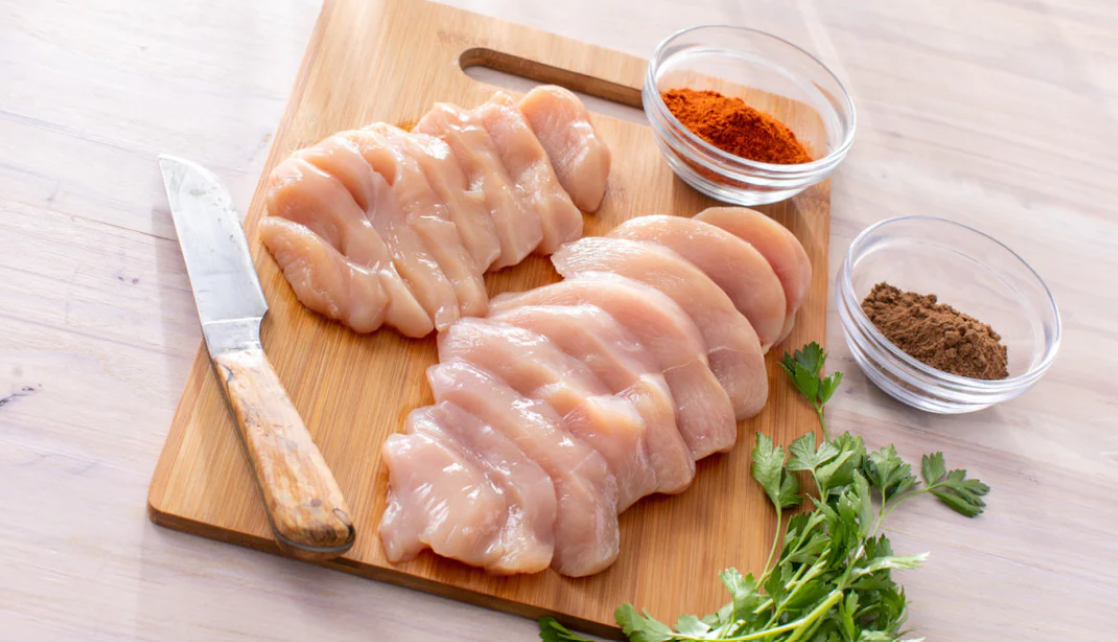 A few things we love about this sheet pan dinner: it's packed with veggies and protein so you can rest knowing your family is getting their nutrition and it's kid-friendly. You can get the kids in the kitchen with seasoning 101 or you can simply serve knowing that even your picky eaters will go for seconds with this meal. 
If you're planning ahead, this recipe can be kicked up a notch by marinating the chicken breasts overnight for bolder flavor and a little kick. If you're heat-sensitive, pull back on the chill flakes and build your way up when adding in spices. If you over season, no worries! Add 1 can of diced tomatoes to your marinade and set for an extra hour to achieve a more mild taste without sacrificing flavor. 
If you don't wan to slice the breasts yourself, try our chicken tenders instead.
Ingredients
Bell peppers (red, yellow, and green)
3
Optional: 2 cups of organic Spanish rice
Optional: Choice of tortilla
Optional: Fresh cilantro and guacamole
Utensils
Ziploc bag
Sharp knife
Baking sheet
Instructions
Slice your chicken breast into thin strips about 1/4 inch slices.
If you choose to marinate your chicken overnight: add coriander, garlic powder, cumin, chili flakes, chili powder, paprika, pepper, and salt into a large Ziploc bag.
Add in the chicken breast slices and 2 tbsp of water to create a marinade liquid. Leave in the fridge overnight, around 6-8 hours before cooking.
Preheat the oven to 400 degrees Fahrenheit. If you want to get a perfectly seared crust, toss your sheet pan in the oven to get it nice and hot before adding on your ingredients. While the oven is preheating, cut your bell pepper into long strips and chop the onion finely. Toss the veggies in a thin coating of olive oil, salt, and pepper.
Remove your hot baking sheet from the oven, add your coated bell pepper and onion, and roast for 8 minutes. If you're going the dry rub route on this recipe, combine coriander, garlic powder, cumin, chili flakes, chili powder, paprika, pepper, salt, and chicken into a large Ziploc bag and shake until fully coated.
Add the chicken to the pan making sure pieces are separated and bake for 15 to 20 minutes or until golden brown.
Check to make sure your chicken has reached an internal temperature of 165 degrees Fahrenheit before removing it from the oven. Add a squeeze of lime juice over the top.
Serve immediately with fresh cilantro and guacamole over Spanish rice or in a warmed flour tortilla.
---