Tips From A Professional Kitchen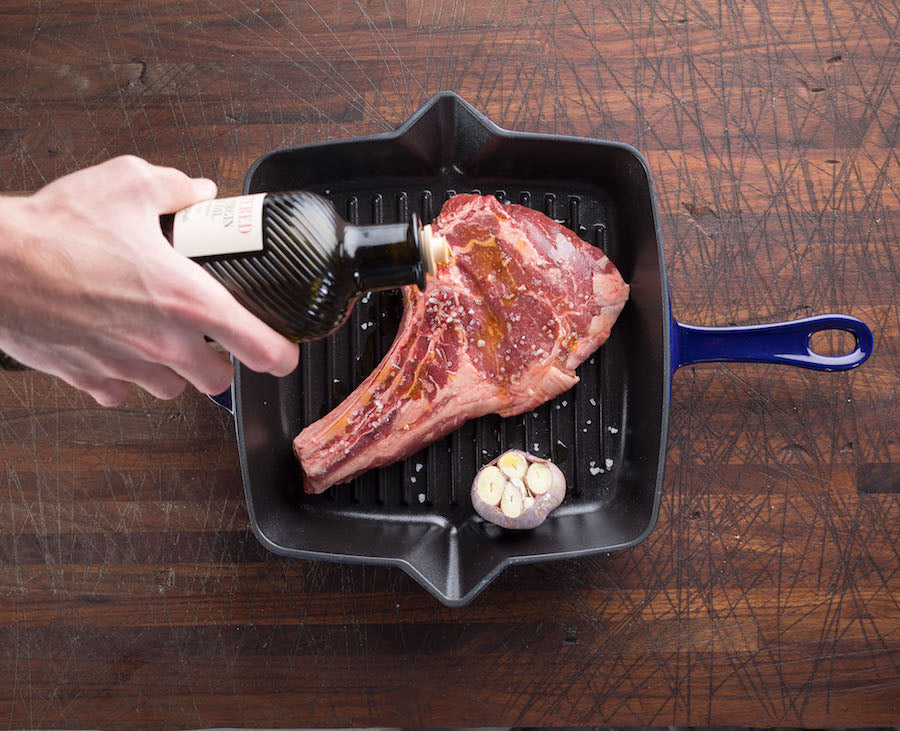 Meet our recipe guru, Phillip Schaaf, here to provide the best tips and tricks for cooking with pasture-raise meats from an expert chef.
As a a chef, what are the differences that you notice when you're working with pasture-raised meats?
I've been cooking professionally for twenty years, and I can say without hesitation that a chef is only as good as the ingredients that he or she is able to source. Proper technique can be taught. Kitchen equipment is mass-produced and available to everyone. The most diversifying variable in the quality of a meal is sourcing the proper ingredients. Finding meat that is pastured and raised with care makes a huge difference in quality, in both the professional and home kitchens. There's more pronounced flavor and better muscle development. Honestly, working with conventional meats is like working with a totally different product.
Any tips on the best way to cook Grass Roots meats? Do you have to treat pasture-raised meats differently?
What I love about high quality proteins is that, for the most part—especially when dealing with pork and poultry—all you really need is a little salt and the proper cooking time and temperature to enjoy a delicious meal. Great meat doesn't require a lot of fuss. Some cooks will find that grass fed beef can have lower fat content, which will affect texture and flavor a bit.
There are some tips that can bring out the best in grass fed steaks.  Sear at a really high heat on both sides and then finish the steaks at a very low heat, almost indirect until the internal temp is where you want it—I recommend 135 F. This will help ensure a tender steak hits the dinner plate. If you are cooking in a skillet, it's great to finish the steak by basting in butter to give it an extra layer of flavor and moisture.  
What about cooking from frozen? Top tips for those of us in a hurry?
Cooking ground meat from frozen is somewhat safe and fairly commonplace, such as browning sausage or beef for immediate use in spaghetti sauce.
Unless there is special equipment available, like an Instapot or pressure cooker, I don't normally recommend cooking whole muscles from frozen, but there are a few good methods for thawing that I use daily in the professional kitchen. The first and always best method is planning ahead. Pull the meat a couple of days before you plan to cook it and place it in the refrigerator to thaw slowly. Always place the meat in a shallow bowl or a rimmed plate. As meat thaws, there will be a bit of a liquid released from the package that can get a bit messy. This thawing method is the safest practice, but life doesn't always allow for perfect planning.
The most widely used quick thaw method in the professional kitchen is to run cold water over the frozen meat continuously until it is thawed. This will require a bowl big enough to hold the meat and a sink basin big enough to hold the bowl. The constant stream of water will allow for the temperature of the water to stay consistent and this will ultimately thaw the meat very quickly. Smaller cuts can be thawed within an hour. DO NOT run warm or hot water on meat to thaw. It will not expedite the process, but it will damage the meat and bring it to an unsafe temperature zone that could could lead to spoilage.
Setting meat out in a bowl at room temperature will work to thaw out a package of meat in a few hours. Just remember to pull the meat out before you leave for the work day, or as you leave for a string of errands. But be sure that you can check it after a few hours. You don't want the meat to spend much time above 40 degrees.
We've recently collaborated with you on a series of easy meals for easing out of summer and into back to school mode, tell us which is your favorite and why?
Honestly, the veggie-packed spaghetti sauce recipe is one of my favorites and has been for some time. It's packed full of flavor and vegetables. My wife, Stephanie, developed this recipe so that my youngest daughter would eat her share of veggies for the day. And it has grown to be one of the best tasting spaghetti sauces I have ever eaten.
What are you cooking tonight?
Tonight I'm cooking a slow cooked pork roast to serve with roasted summer squash casserole, sauteed green beans and simple tomato salad. Pork roast is so delicious and can be an really easy weeknight meal with a little planning ahead and a low heat oven or a slow cooker. Let the roast cook all day while you tend to your daily tasks and then come home to a quick finish meal to enjoy with the family.
---